Gold Sponsor (Vietnam)

Phuc Khang Corporation
Green Journey with Phuc Khang Corporation's sustainable humanity values has entered its 10th year with many remarkable achievements, meeting the needs and increasingly demanding requirements of the market. As a pioneer in developing Green buildings in Vietnam, the company is proud to create standard living values ​​in traditional and modern harmony in a sophisticated and flawless chord.

Phuc Khang's real estate products always aim to provide optimal solutions for an authentic ecological living space for customers, striving to meet factors such as eco-friendly and economical solutions that create positive energy for customers and the community. The company look forward to become the leading international Green real estate brand in Vietnam in both quality and quantity.

With the mission Pioneering and promoting the creation of a better lifestyle for community health and sustainable humanitarian ecological environment according to global Green standards, Phuc Khang has made continuous efforts to bring customers unique experiences in high-class living spaces. Not only does the company create Green communities, civilisation and traditions, Phuc Khang also offers real life values ​​that a large number of global residents have been aiming for.

PROJECT CASE STUDY
Rome by Diamond Lotus — European architectural masterpiece between East Saigon Street

From West to East, the quintessential beauty of humanity that has been distilled over thousands of years is still shiny in every line and pattern in the Roman arena, the Triumphal Arch, the Louvre, etc. And to Saigon, the timeless beauty shows up in the heart of the city with Notre Dame Cathedral, City Theater, City Post Office, Ben Thanh Market, etc.

Along with the economical and financial shift to the East in recent years, with the desire to create a heritage symbol that brings a thousand-year breath at East Saigon Street, Phuc Khang brings Rome by Diamond Lotus — a masterpiece of Rome right at the artery of Mai Chi Tho, Dong Van Cong. Rome City Saigon is located on an area of ​​9.168m2 with five commercial floors and 19 class facilities in 1 floor 6. The project is designed in a luxurious classic style, and is a rare ideal symphony of the three elements: Heritage – Boutique – Resort. It promises to be a residence and a reunion of the upper class in the country and internationally. This is the first project in Vietnam built under three Green standards, one security standard and backed by a number of top names such as Coteccons, Landmarks, CBRE, UL, etc.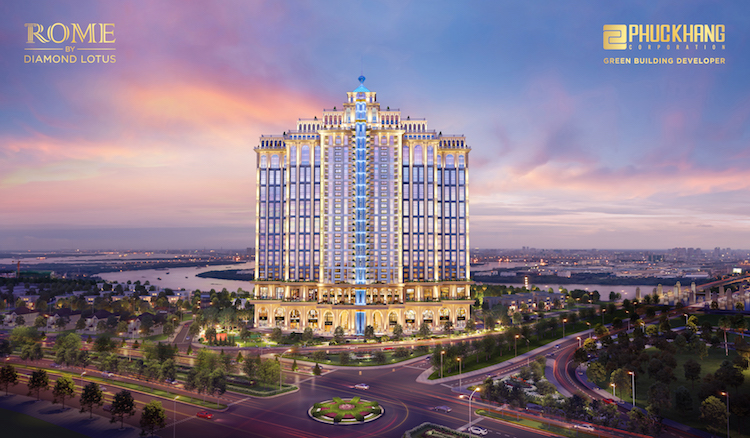 Rome by Diamond Lotus, together with the specific characteristics of the project and Phuc Khang's development philosophy, has created different values by integrating community aesthetic values in terms of heritage, and a successful experience with Diamond Lotus Riverside "Water Ecology Landmark" to create a "Humanistic Landmark" right at the intersection of the eastern gateway of the city.
CONTACT US to find out how you can partner with FuturArc, the Voice of Green Architecture, in its leading Green design competition that has created thought leaders in Green building ideas in Asia-Pacific for the past 11 years.